Montanema Handmade Village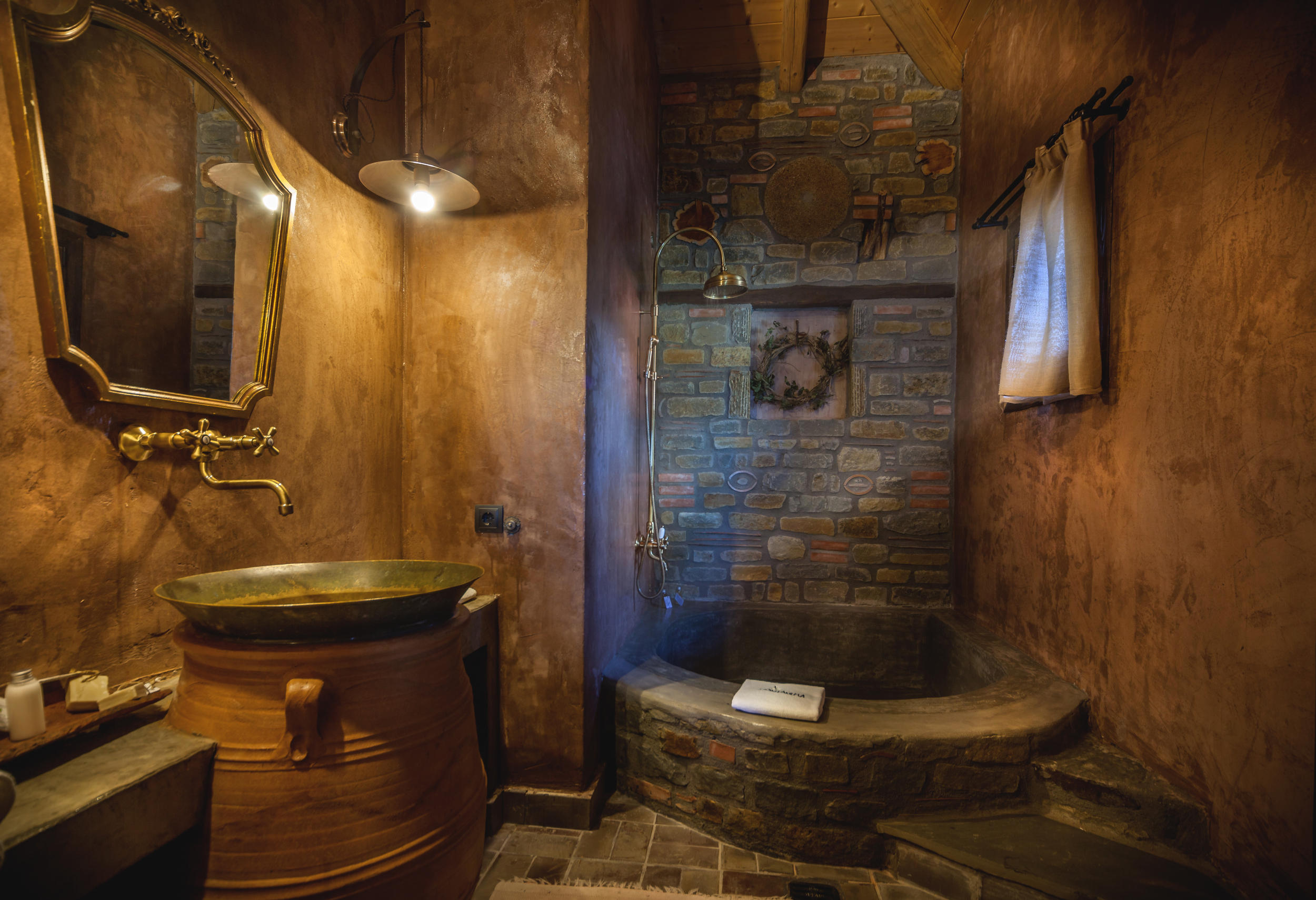 OVERVIEW
Few times in your life will you cross path with a twelve apartments estate built on eco-structures in a secluded, dreamy landscape. Montanema Handmade Village is serenaded with a large amount of trees and bushes of the area. The flora of the estate brings the essence of nature to your stay, with the water supply and irrigation system coming from the mountain springs. The raw materials of the products used come from local certified biological farmers of the area, limiting their carbon footprint.
You will be in awe to learn that the twelve apartments of various types located in stone-built houses spread out like a small village. They are perpendicular to each other and can be reached my road and beautiful cobbled paths dotted with cute rustic wooden fencing. Handmade details are present in every corner, the unique carved baths with cement screed, comfortable bright spaces, not to mention the verandas that almost caress the fir trees to make up a personal sanctuary of relaxation created by the very ingredients of nature. The simplicity of a country house where you get the chance to make your own cup of tea in the kitchenette meets the comforts of a mountain resort through carefully planned services provided generously and wholeheartedly. Additionally, you can expect an array of hotel facilities including: an outdoor swimming pool, their very own restaurant, pool bar, pool lounge, spa, library, ecological mattress, and sofa lounge with fireplace in a pet friendly estate. For well-being, you can also enjoy the health and fitness club with the latest technology or even participate in a yoga program or go running in an airy space overlooking nature.
There are endless wonders to Montanema Handmade Village as there are places to visit and explore. Just 4 kilometres away is the breathtaking Plastira Lake offering all choices of activities like horse or bike riding, swimming, boating and more. Also the UNESCO'S World Heritage phenomenal rock, Meteora, with it's monasteries is only 50 kilometres away from the handmade village. Perfect for nature lovers.
Montanema Handmade Village
Address: Anthohori, Mouzaki, Karditsa 43060, Greece
Tel: (+30) 244 5045 220 www.montanema.gr/en/home
Style: Bio-climatic architectural design
Rooms: 2 House-Nests for two / 3 Little Villas / 5 Family Houses / 1 House with a Loft / 1 Manor House
WIFI: Free
Airport: Thessaloniki / Athens Intl.
Breakfast: Yes